2017 SEC in March Madness Preview: The SEC Looks to Establish Itself as a Power
The SEC made a better initial showing in the NCAA Tournament than people thought the conference would have a few weeks ago. It was initially thought that the conference would only have three teams in the tournament, but ended up with 5 teams in. Vanderbilt is the lowest seeded of these teams with a 9 seed and Kentucky the highest seed with a 2 seed. When you consider the conference's amount of teams the past 2 or so years, this is a very good sign that the youngest conference in college basketball will only get better.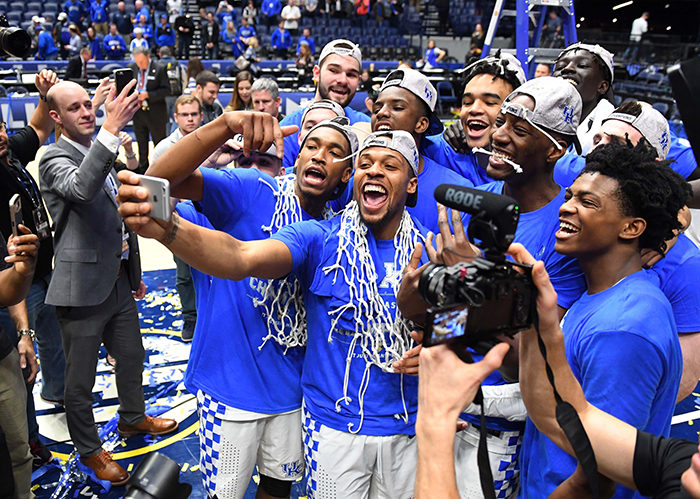 The SEC has a good amount of quality teams in the NIT as well.  The SEC has 3 very good teams in the NIT Tournament.  Georgia is a 2 seed, Alabama a 3 seed and Ole Miss is a 5 seed.  It is safe to say that the SEC is looking good to start getting back to having 8 or more teams in the NCAA Tournament in years to come.  The new commissioner put an emphasis on playing better non-conference schedules and it has dramatically improved all of the teams.
The NIT looks to be promising for the SEC teams involved. Ole Miss starts out with Monmouth, which appears to be a game they can win. If they should win this game, they would play what is considered the number 1 overall seed in Syracuse. They would probably lose this game, but could make something of it and end another great season. Georgia is the 2 seed in the same bracket. They play Belmont first and should make short work of them.
They then get the winner of the Indiana Georgia Tech game. After seeing both of these teams play in their conference tournament, and the fact that Georgia will be healthier than they were in the SEC tournament, I truly believe they will go on to play Syracuse in the Quarterfinal where anything could happen. Alabama is the 3 seed and plays Richmond.
I see them beating Richmond easily. They play a good style and are a team that could have been in the NCAA tournament if a few things had broken their way. I believe they will beat Clemson in the second round. Whoever they face in the Quarterfinals will be in for a tough game and I believe that Alabama will get to the Championship game of the NIT, where they will likely lose to a very good Syracuse team.

The SEC teams got tough draws in the NCAA tournament. We'll start with Kentucky. As a 2 seed, they should cruise through to the second round. I believe they will then play Wichita State and win that game without a lot of trouble. I believe we will then see one of the best games in the tournament, as I think they will face off against UCLA. This is a good team, who can run with Kentucky, but I believe the improvements in depth that Kentucky has made throughout the SEC tournament will bring them past UCLA. They will most likely play North Carolina in an epic rematch of a great regular season game.
I believe they will once again beat North Carolina, getting them into the Final Four. The Final Four could go to anyone, but I'll go to the other teams before I make that prediction. Florida is the four seed in the East. South Carolina is also in the East in the 7 spot. Florida should win their first round game rather easily. They are then likely to play Virginia. I do not see Florida getting past Virginia. I feel like Florida was not playing their best basketball at the end of the season and the style Virginia plays will give them troubles.
South Carolina will handle Marquette easily in the first round. They will then play Duke, as I see them cruising through the first round. I think this will be a good game for about 10 minutes until Duke finds it's footing and defeats South Carolina. Vanderbilt is the 9 seed in the West. They must start off playing a very good Northwestern team. Anything could happen in this game.If Vanderbilt can hit it's threes and win they would then have to play Gonzaga. I don't think that they have the size to beat Gonzaga and will fall in a hard fought loss. In the South, Arkansas finds itself in the 8 seed.
They will play against Seton Hall in the first round. Seton Hall has good guard play, but if Arkansas can get up and down the floor, also getting the ball in the post to their bigs, they should handle this team in the first round. They then must deal with North Carolina. I believe that Arkansas will hang around making this a better game than most would think, but ultimately will lose by about eight points or so. It will have been a good season for the Razorbacks.
I do believe that Kentucky will get to the Final Four and face Kansas.I think they should handle Kansas with their guard play.Fox and Monk will easily get through this.I see Gonzaga playing Duke in the Final Four on the other side of the bracket. I believe Duke is peaking at the right time and will win that game.So I believe that the Championship game will be Duke versus Kentucky.Anything could happen, but I think Duke will win out and get the Championship.It will be a very close game that could go into over-time or a last second shot.
The SEC will have a good showing and I believe that next year and years to come will get even better as the influx of great coaches and young players into the league continues. The rest of the conferences better look out, because this is going to be a consistent 8 bid conference for quite some time starting next year.
What do you think?

We'd love to hear your comments and/or opinions. If you submit them here, other visitors can read them, rate them and comment on them. An e-mail address is not required.

2017 SEC in March Madness Preview: The SEC Looks to Establish Itself as a Power to SEC Basketball

By
Mo Johnson
, Copyright © 2006-2017 SECSportsFan.com