2017 SEC Basketball Update
By - Kory Kinslow

At this point in the season the SEC has 3 good teams at the top and 9 teams kind of bunched up after that with two teams bringing up the rear. Kentucky, South Carolina, and Florida all seem to be tournament teams and are tied at the top of the SEC at 9-2. They are followed by a few bubble teams that aren't going to make it unless they start piling up wins they should get.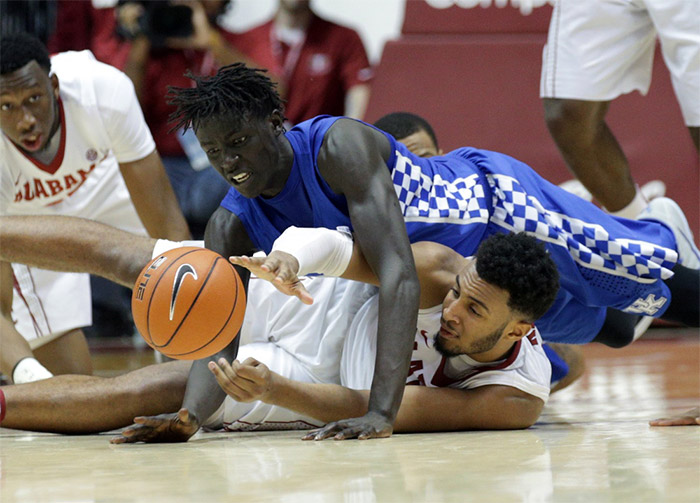 As of today'sBracketology on the ESPN.com web site the SEC has four teams in. The previously mentioned top 3 and then Arkansas. One would think that Arkansas has either fallen out or is squarely on the bubble after two losses to Missouri and Vanderbilt. If Arkansas wants to get in they need to win all the games they're supposed to win and probably win a game or two that would make a statement.

I would have to think that Alabama and Tennessee might be on the bubble as well. Both teams are trending up and continue to improve as the season goes on. The other teams that are close do not have very good out of conference records, but a few big wins or a winning streak and they may take the place of the three bubble teams.
The SEC is trending down as a conference, largely due to the play of Kentucky. We all thought they would be better at this point, but we must remember that they are a team of very young guys. When we think of an experienced guy there, we often are thinking of Sophomores, which would be a young guy on any other team. Kentucky may get a lower seed in the tournament, but I wouldn't want to play them if I were a top team.
South Carolina has the toughness and talent to beat anyone, despite their loss to Alabama this week. I think Florida has the potential to get far into the tournament. They seem to be playing their best basketball late in the season.

The conference has beaten up on itself since it started conference play. The cream has sort of risen to the top, but as far as getting other teams into the tournament, well that's going to be tough because each of these teams has a "Bad News Bears" syndrome. One game they show up to play and the next each of these teams is getting beaten by someone we didn't think they'd ever lose to.
If the SEC wants to come up and compete with the top conferences again, the most talented teams are going to have to show up and play every night. I truly believe the previously mentioned bubble teams in Arkansas, Alabama, and Tennessee could all get into the tournament if they would show up to play, win the games they're supposed to, and get a couple or wins or more in the SEC tournament.
It's time for the push, so it's going to be exciting to see who plays the way they're capable of.

What do you think?

We'd love to hear your comments and/or opinions. If you submit them here, other visitors can read them, rate them and comment on them. An e-mail address is not required.

2017 SEC Basketball Update to SEC Basketball

By
Mo Johnson
, Copyright © 2006-2017 SECSportsFan.com