2016 SEC Football Preview and Predictions
By - Kory Kinslow

The SEC has several viable contenders along with a few other teams that will make bowl appearances this season. At the top of the league we have some old school favorites. Alabama, LSU, Tennessee, Ole Miss, Georgia, and Florida shake out as the top six teams in a once again loaded conference. I believe that any of these teams could contend for a spot in the conference Championship game and probable bid into the National Playoff. We will first talk about these six contenders and how I believe they will shake out in their divisions and then talk about the rest of the conference.
EAST
In the East I see Tennessee coming away with the title. I believe it will be a close conference with Georgia and Florida following closely, maybe only separated by a tie breaker, behind. I see 9 games that I almost guarantee as wins for both Tennessee and Georgia. I see 8 such games for Florida. The problem for Florida is I also see 4 games that nearly guarantee as a loss. I think there is only one I would guarantee for Tennessee and two for Georgia, so I pick Tennessee over Georgia. Obviously the season has not started, we have not seen how the new prospects will play together nor seen injuries just yet. We have seen what these things can do for and against teams in past years and there's always a surprise, but I truly believe it will be Tennessee representing the East.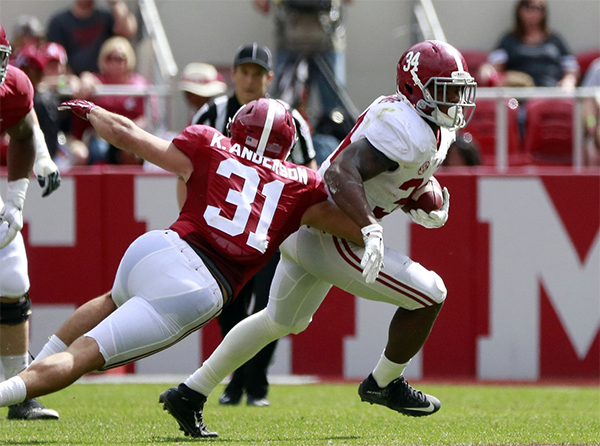 WEST

The West has it's three obvious contenders in Alabama, LSU, and Ole Miss. I can say with a near certainty that Alabama will win ten games. I think that they could win all 12 regular season games. I see LSU being guaranteed 8 wins and 3 that are up in the air. I believe they will have at least one loss and if that loss is to Alabama, then that would be enough. I do see LSU making a push to be in consideration for the National Playoff. I think Ole Miss has 8 games that should be wins. I see 3 losses on their schedule and one game that is up in the air. The fact is, Alabama is the team to be reckoned with and LSU may be the only team on the schedule capable of beating them. Alabama does have to play Tennessee in the regular season as well, giving them two games where I truly believe that there's an outside chance of them getting beat. Alabama needs to fill a few holes, but they always seem to recruit so well, that I see no way that they don't fill those holes. I think Alabama wins the West with LSU being a very close and worthy second.

OTHER BOWL TEAMS
I think that there are four other obvious bowl teams. I believe that Texas A&M is good to win enough games. They may be really good if they get comfortable at quarterback. I believe that Mississippi State will be good enough and just like A&M will have to find a replacement at the QB position. I think that Auburn will be excellent this year. I could see them winning 7-8 games. It will all depend on how quickly they all gel. I believe that Arkansas will make a bowl game and they will have to depend a lot on some inexperienced running backs and a Quarterback that has seen little action, but has been in the system a long time in Austin Allen.
The other teams I see that might have a chance would be Kentucky and Missouri. I think both of those teams could put a decent run together.
SEC CHAMPIONSHIP
I think we will see a re-match of Tennessee and Alabama in the Championship game. I believe what the regular season game has in store will show quite a bit about this game. If Tennessee gets blown out in the regular season by Alabama, they may not have enough confidence, but if Tennessee puts up a good battle or even wins that game, we may see Tennessee take this one. I don't really see either of those happening though, so, I see it being Alabama out of the SEC Championship game again!

What do you think?

We'd love to hear your comments and/or opinions. If you submit them here, other visitors can read them, rate them and comment on them. An e-mail address is not required.

2016 SEC Football Preview and Predictions to SEC Football

By
Mo Johnson
, Copyright © 2006-2017 SECSportsFan.com