2016-2017 Bowl and Playoff Preview
By - Kory Kinslow

The SEC had another great season! There are 12 teams representing the SEC in their respective bowl games and the number one seed in the College Football Playoff in Alabama. Alabama is, once again, heavily favored to win the College Football Championship. I will go through each game by the date they will be played and give you my prediction of each game.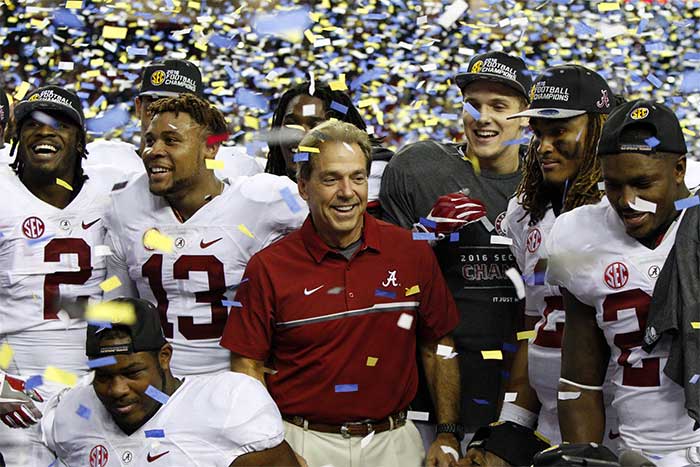 St. Petersburg Bowl
Miami(OH) vs. Mississippi State
Miami of Ohio has a solid team. They played well in their conference and had a very good year. Mississippi State seemed to find their rhythm a bit as the season went on. They had some tough losses, but they do play in the SEC. I think that Mississippi State will win this game big. I think they have the athletes and the size to really overcome anything that Miami can throw at them. I believe State wins 35-14.
Camping World Independence Bowl
NC State vs. Vanderbilt
Vanderbilt had a decent enough season. They won a lot of games that we may not have thought that they would and lost some games that many thought they would win. They seem to be improving. They will play against a NC State team with an excellent defense and good offense. I don't think that NC State has seen the competition that Vanderbilt has, so by that I think Vandy will win. I, however, think it will be very close with Vandy winning 17-14.
Advocare V100 Texas Bowl
Texas A&M vs. Kansas State
For this pick, I'm going strictly based on momentum. Texas A&M did not finish the last 5 games well, where as Kansas State won 4 of it's last 5 games and narrowly lost the one game of those that they lost. I believe that this will show the weakness in the defense of Texas A&M. I think that Kansas State is better on defense and has enough fire power to score on A&M. Kansas State wins by a score of 28-24.
Birmingham Bowl
South Florida vs. South Carolina
South Carolina had a year of ups and downs. They finished on an up swing. They do have some momentum going into this one, but their defense will have to carry them. South Florida has a high powered offense, but has had troubles in stopping other teams. South Carolina, has had troubles scoring against the tough SEC defenses they've faced. I think this will be closer than some may think, but I do give the edge to South Florida by a score of 21-14.
Belk Bowl
Arkansas vs. 22 Virginia
Arkansas has certainly had it's moments as a powerful team this year. It, however, has had just as many moments where we may have wondered what team we just watched. They seem to be a top 25 team one week and a small conference school that can't get out of their way the next week. Virginia Tech has played well and is the type of balanced team on both sides of the ball that gives Arkansas trouble. It's hard to pick an Arkansas game because of all the reasons I've stated. They have a coach that given time can get his team ready. I think it will be a close, low scoring game. I say that Virginia Tech comes out on top by a score of 21-17.
Autozone Liberty Bowl
Georgia vs. TCU
TCU is going to try to spread out Georgia's defense and show them a look they haven't seen much this year. Georgia will try to pound the rock and then go to the play action with a great young quarterback. Georgia has a defense that can play when they are motivated. I think that Georgia rolls in this one with a win of 25-14.
Franklin Mortgage Motor City Bowl
Nebraska vs. 21 Tennessee

What team will show up for Tennessee? That's the question that has to be answered. They certainly have some very talented and athletic players, but will their heads be in this game? Will they be in all the way. It's time to put up or shut up for Tennessee. Nebraska is a solid team who won 9 games playing in a tough conference. They have had some bad losses, but some very good wins. I believe this will be a very good game with Tennessee winning by a score of 28-21.
Buffalo Wild Wings Citrus Bowl
20LSU vs. 13 Louisville
Louisville was in the talks for the playoffs until just a few weeks ago. LSU thought there season was done when they fired Les Miles. Neither of these things happened. LSU rallied around their now, new Head Coach and Louisville fell apart at the end of the season. Louisville certainly has talent and explosiveness with Jackson at quarterback. He can provide a spark at any time. The question will be if they can face a tough SEC Defense. Louisville was unable to defeat another SEC opponent in Kentucky. This could be a great win for the SEC. I think that LSU will be able to run the ball all over Louisville, no matter which running back plays. I think LSU wins 28-24 in a close and exciting game.
Taxslayer Bowl
Georgia Tech vs. Kentucky
Kentucky will surely not have seen a team that plays the style that Georgia Tech does. They will run the ball from multiple directions in multiple ways by multiple people. Can Kentucky's defense hold up against Georgia Tech? I don't think they can. I think that Kentucky is a team on the rise and that they will be great in years to come, but Georgia Tech does give you some unique problems. I think it will be a low scoring game and I don't like Kentucky's chances in a game like that. I give Georgia Tech the nod by a score of 14-10.
Chick-Fil-A Peach Bowl CFP Semifinal
Washington vs. Alabama
Most people are not giving Washington much of a chance in this one. I am one of those people. I just don't see Alabama being beaten this season. Their defense is too good and they are able to make whatever adjustments they need to make on offense at any given time to change to a different style that will come up with points against any defense. Washington is a good team and has a good attack, but I don't think that they can hang with Alabama. I think the first quarter will be close, after that Alabama's staff makes adjustments and Alabama rolls. I have Alabama winning this one 48-14.
Outback Bowl
17 Florida vs. Iowa
Florida is another of those teams in the SEC that you just don't know how they're going to show up. I know that Iowa will be there, will be tough, and will fight. I believe that the coaching staff at Florida will actually have this team ready to play this game. I think given the time to get the team ready that they will play at peak performance and I don't think Iowa can hang with a top shelf Florida team. I have Florida winning this game with their defense by a score of 28-7.
All State Sugar Bowl
14 Auburn vs. 7 Oklahoma
Auburn is a solid enough team, but they lack a true leader at Quarterback. Oklahoma went on a big win streak at the end of the season. They have a Heisman nominee in Mayfield at Quarterback, who can tear apart any defense with his arm and legs. I don't see any way that Auburn steps up enough to win this game, I think they will keep it close for at least a half, but can not keep up scoring with Oklahoma. At first they may overpower the offensive line of Oklahoma, but I don't think that lasts long enough to hold back the Sooner offense. I see this one going for Oklahoma by a score of 28-17.
Championship Game
Clemson vs. Alabama
I do pick Clemson to beat Ohio State in a very close and great game. I think Clemson also poses the greatest threat to Alabama. I think that Clemson is the second most complete team in NCAA football. I don't believe, however, that they will hang with the Tide for 4 quarters. I see this being a very entertaining game through the first half and into the third quarter. I then see the offense of Alabama wearing down the Clemson defense up front with the bruising running game that they have been breaking out late in games. I see Alabama winning the title over Clemson by a score of 35-24.


What do you think?

We'd love to hear your comments and/or opinions. If you submit them here, other visitors can read them, rate them and comment on them. An e-mail address is not required.

2016-2017 Bowl and Playoff Preview to SEC Football



By
Mo Johnson
, Copyright © 2006-2017 SECSportsFan.com