2015 SEC Football Pre-Season Preview

By - Kory Kinslow

The SEC looks to be a very good and very different conference for the 2015 football season. Alabama will once again look to be the power in the West, but it appears in state rivals Auburn, who had a great recruiting class, may be the top contenders to knock Alabama off of their number 1 spot. The SEC East was very confusing last year, with Missouri once again capturing the crown. Missouri lost a lot on defense this year and may take a bit of a dip, but I feel they will still easily get to a bowl game. Georgia and Tennessee figure two be the two top contenders to take the title in the East this year. Both of these teams had a lot left and also had a great recruiting season.

The West will once again be very powerful. Texas A&M and Arkansas were the only teams out of the West to win in the post season. A&M had a great recruiting class and Arkansas has most of the team returning. I figure these two teams will leap frog Mississippi State, LSU, and Ole Miss. Alabama and Auburn will be fighting it out for the top spot while the rest of the division looks to set themselves up for a better bowl game, upsets, and ultimately the keys to the division in 2014 by developing players and showing prospects that they are just as worthy a team to come to as any of the major powers.
The East is notoriously hard to figure out. Missouri should be good again, but I don't think they will be as good as the last two years. Georgia and Tennessee look like they could be the class of the division.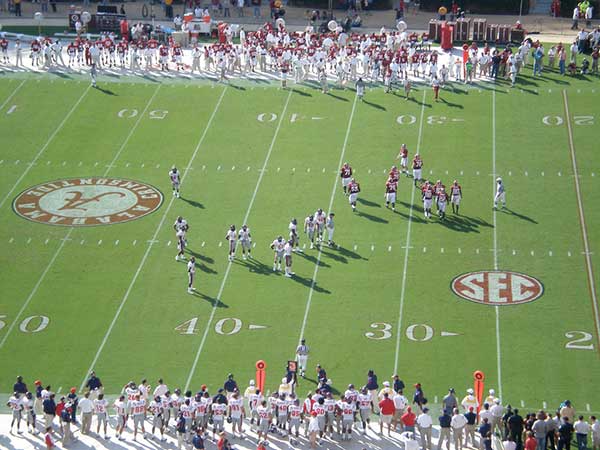 Don't sleep on Florida, who despite what was deemed a sub-par season, still won 7 games and a bowl game. They have a new coach, and I believe they will be looking to strike for some big upsets this year. Vanderbilt and Kentucky seem to always be in rebuilding mode and this year is no different. South Carolina will be looking to bounce back from a very disappointing season.

I feel like they will be better, but the improvement in some of the other teams may hurt them. Tennessee and Georgia both had strong seasons last year and have done nothing but improve. Tennessee had a very young team and didn't lose much, so I feel that they will jump to the 1 or 2 spot, with Georgia being the main competition this season.
Last year I predicted two SEC teams to make it to the 4 team College Football Championship Playoff. I'm not sure that I can predict that again, simply because the conference beats up on itself. I do see a better outcome for whoever makes their way out with the championship. I believe this year's National Champion will come from the SEC. Of course there's always a good chance of that. A peek at even online gambling in Canada will show you the odds are good for another SEC National Champion. I also feel that the conference's bowl season will go a lot better in the 2015 – 2016 bowl season.


What do you think?

We'd love to hear your comments and/or opinions. If you submit them here, other visitors can read them, rate them and comment on them. An e-mail address is not required.

What Other Visitors Have Said
Click below to see contributions from other visitors to this page...

My thoughts Not rated yet
as always i agree with most of your predictions but I think Georgia will have an outstanding year with nick Chubb in the back field and Marshal and 3 other …
buckeye fan Not rated yet
How can you predict that an SEC team will win the national championship. Ohio State was better than Alabama last year, Alabama lost a lot of talent but …
2015 SEC Football Pre-Season Preview to SEC Football Blog

By
Mo Johnson
, Copyright © 2006-2017 SECSportsFan.com