2013 SEC Football:  Week 5 Results; Week 6 Preview

Week 5 Results
South Carolina 28 – UCF 25

The Gamecocks were still feeling the effects of their Athens hangover (And we all have had one or two of those in our day) and gave an uninspired effort as they trailed the Golden Knights 10-0 at the half and led only 14-10 going into the final period.

USC did lose Conner Shaw to an injury, so for the second year in a row, RB Mike Davis was called on to replace an injured star (last year it was Marcus Lattimore) and he responded well with 167 yards rushing to save the day.
Tennessee 31 – South Alabama 24

Just what the Vols need before their visit from Georgia next week, a half assed performance against a Sun Belt team.

Tennessee blew a 31-7 lead and had to have an end zone interception to save the day.

UT is a work in progress and after watching their game last Saturday, I am not sure how much progress is being made.


Georgia 44 – LSU 41

In one of the greatest games in SEC history, Georgia was able to have one more offensive burst than LSU as they shaded the Tigers to stay unbeaten in the conference.

Aaron Murray silenced his critics in the victory as people left Sanford Stadium looking at the senior QB in a much different light than when they arrived.  And he deserves it.


Alabama 25 – Ole Miss 0

Yawn!  Another chump to the Crimson Tide throne thought they would knock the crown off the king's head.

Cue the Nelson laugh from the Simpsons...


Texas A&M 45 – Arkansas 33

Well, I was wrong about the Aggies losing in this one.  But the fun thing about the year is Johnny Dumb Ball is going to lose again sooner or later, and I can't wait to be there when he goes splat!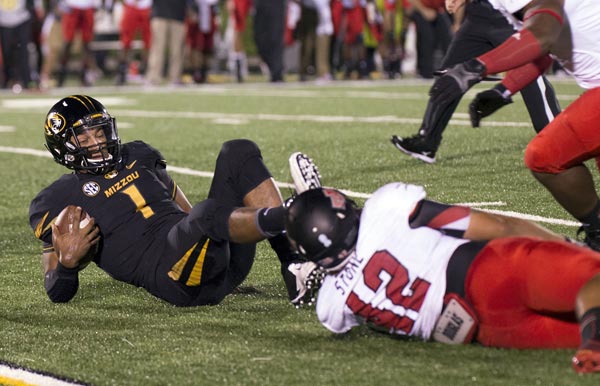 Florida 24 – Kentucky 7

The last time Kentucky beat Florida, Bear Bryant was coaching the Wildcats.  Gee, it has been a while hasn't it?


Missouri 41 – Arkansas State 0

Nice win for the Tigers.  The funny thing is there are some Mizzou fans that are starting to beat their chests since they are 4-0.

Their victories?  Murray State, Toledo, Indiana and Arkansas State.  Not exactly Murder's Row now is it?  And the Tigers only carried a 20-16 lead into the final quarter.  We'll see if Gary Pinkel's Tigers will be man eaters or pussy cats when the real season begins on Saturday.


Vanderbilt 52 – UAB 0

This one was pretty easy for the Doores as they got the tune up they needed before jumping back into conference play this week.
This season has been an emotional rollercoaster for all fans and bettors alike. Whether you bet on sports just to add a little extra excitement to the game, or if you are betting to pay your College tuition, it is very important to do your research and read online sportsbook reviews before placing your bets. For NFL bettors we like this list of top 5 NFL online betting sites that covers betting lines, different sportsbook bonuses, and outlines the most popular online deposit methods for bettors from the US looking to bet on NFL games over the Internet.
Week 6 (6-2 last week – 45-5 season)


Georgia State at Alabama

Remember when Mr. Sluggo used to beat up Mr. Bill on Saturday Night Live?  Ooooh Noooooooooo, Mr. Miles, this one is going to be a beat down of seismic proportions!

Alabama 65 – Georgia State 7


Georgia at Tennessee

Things are lining up quite nicely for the Vols this week. 

Georgia is just coming off an emotional victory over LSU last week.  In 2004 UGA had an emotional victory over LSU then came out flat and were upset at home to the Big Orange.

The Dawgs lost all world RB Todd Gurley to an ankle injury and is listed as day to day.
 
Georgia will be playing their first SEC game on the road.
 
You know what that all adds up to?The Dawgs win by only 28 points.

Georgia 49 – Tennessee 21


Ole Miss at Auburn

Ole Miss jumped in bed with the big boys last week and got their noses smacked by a rolled up copy of the Tuscaloosa sports section as Bama showed them they are not quite ready to challenge for the Western Division championship just yet.

This week, the Rebs will get the other Alabama football icon as they travel to Auburn.  The Tigers won't be as tough as the Tide, but they had better not overlook what is going on in Jordan-Hare Stadium.

In the end, Coach Freeze's Rebels are just a shade better than Coach Malzhan's Tigers right now, and that will be the difference in a very close game.

Ole Miss 24 – Auburn 20


Arkansas at Florida

The Gators got a break, literally, when Jeff Driskel broke his leg against Tennessee.  The run/pass threat of Tyler Murphy gives Florida another weapon on an offense that so far this year has not been stellar.

Arkansas is making strides to get back to the elite in the SEC, and although the last two weeks have been disappointing, they are improving.

Too bad this one is in Gainesville, since the home crowd will be the difference.  Florida will stay unbeaten and stay on a collision course with Georgia at the end of the month.

Florida 27 – Arkansas 17


LSU at Mississippi State

I really feel sorry for the Bulldogs.  LSU is fast.  LSU is big.  LSU is talented.  LSU is very pissed off right now.

LSU 45 – Mississippi State 21


Missouri at Vanderbilt

I got a teehee when I read what some of the Tiger fans were writing and the inflated sense of worth in their team.

Hey Mizzou, YOU HAVEN'T PLAYED ANYBODY!

This week, confusion reigns as James Franklin's Vanderbilt team will play James Franklin's Missouri team.  Or is it Ben Franklin?  Or the Franklin Mint?

Hell, I don't know.  But one thing I do know is Vanderbilt will win this one.

Vanderbilt 42 – Missouri 27


Kentucky at South Carolina

There are a few things you can count on every week in the SEC: Alabama will win.  Georgia will score at least 40.  And Kentucky will lose.

South Carolina 35 – Kentucky 14


Read Scott Sergent's outstanding new book:
What do you think?

We'd love to hear your comments and/or opinions. If you submit them here, other visitors can read them, rate them and comment on them. An e-mail address is not required.

What Other Visitors Have Said
Click below to see contributions from other visitors to this page...

Georgia on Upset Alert Not rated yet
Bleacher Report has put Georgia on "Upset Alert." Reasoning? 1. Georgia coming off huge, tough, emotional win over LSU. 2. Georgia on the road …