2013 SEC Football Championship Game Preview
Week 14 Results


Mississippi State 17 – Ole Miss 10

I guess the egg is on my face in this one as the Bulldogs got past the drowsy Rebels.

The win probably saved Dan Mullen's job, but the game was study is boredom.  Did anyone else fall asleep watching that one?
I am sure Mike Slive (Or Mike Slime as my buddy Chirs K. likes to call him) was happy about that one since a Bulldog loss would have meant another SEC team would be staying home for the holidays.

Thank God for the Chico's Bail Bonds Bowl, huh?


LSU 31 – Arkansas 27

You knew this was going to happen this way.  Arkansas, on the road, and led by three with a little over a minute to play.  LSU has lost Zack Mettneberger to a leg injury, and even though it looked grim for the Tigers, I thought I saw Lawrence and The Ghost standing on the sidelines, waiting to help pull off another incredible LSU comeback victory.

Sure enough, freshman quarterback Anthony Jennings, did his best Gavin Grey imitation and drove the Tigers 99 yards to the winning score. His 49 yard bomb with 1:15 left to play let LSU escape the upset, and kept them in line for a New Year's Day Bowl.


Florida State 37 – Florida 7

Ray Charles could see this one coming.  My only question was how did the Gators keep it to 30 points?  I thought it would be 37-7 at the end of the first quarter.

My, oh my, where is Steve Spurrier and Urban Meyer when you need them?


Vanderbilt 23 – Wake Forest 21

James Franklin should run for mayor of Nashville.  The 'Doores have won their eighth game, and are going to play in their third straight bowl game.

Gee, these guys are starting to look like a real football team, just like their bitter rivals to the east.  However, now that I think about it, they don't look that much alike.  The guys from Nashville have been looking a whole lot better since Franklin got there.


Georgia 41 – Georgia Tech 34 2OT

Speaking of taking over a state, the Bulldogs showed why they are the kings of the Peach State as they overcame a 20-0 first half deficit to stun the Yellow Jackets in Atlanta.

Tech had everything working in their favor.  UGA lost their starting all-world QB, Aaron Murray.  They were at home.  They faced a Swiss cheese defense, and an injury riddled offense.   They had a 20-0 lead.  They had the lead in overtime.

And they still lost.

I guess they will continue to be little brothers for at least another year.


Tennessee 27 – Kentucky 14

Zzzzzzzzzzzzzzzzzzz.  Um, wake me when this titanic struggle ends…..


South Carolina 31 – Clemson 17

I think I just saw a Carolina sized can of whoop ass delivered.  And now, all that is left is a Carolina sized case of the red ass coming from the small little town next to Lake Hartwell.
SEC Championship – Semi-Finals


Missouri 28 – Texas A&M 21

In one semi-final, Missouri showed why they deserved to be where they are by sweeping the rest of their conference games and being crowned SEC East Champions.  This was an even more impressive feat sine they have only been in the SEC for two years, and they did this without starter James Franklin (No the other one) for half of the season.

Everyone, including the Coach here underestimated the Tigers, and now they went out and proved all of us wrong.   Take away one bad quarter against South Carolina, and they would be playing for a spot in the BCS Championship game

Congrats, Mizzou, you deserve it.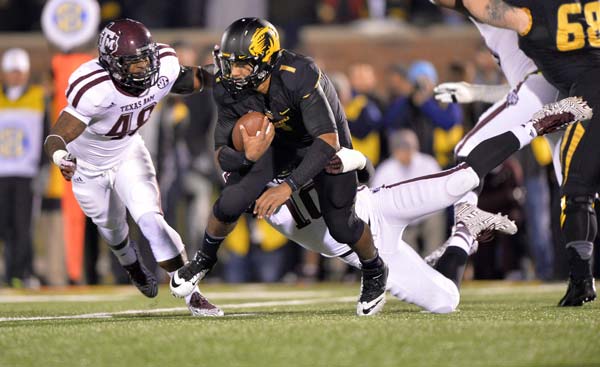 Auburn 34 – Alabama 28

Hmm….where do we begin?  In the biggest upset since David and Goalthiath, the Tigers stunned their most hated rivals in a way that still defies description as they won the other semi-final to qualify for the SEC Championship game.

Who would have thought Bama would give yup the tying touchdown in the final minutes?  Who thought the Bama defense would allow the Auburn offense to run like they did?  And who would have thought the once mighty, Nicktator led, invincible Crimson Tide would come out jittery and commit mistake after mistake?

That's why they play the games, ladies and gents.
Week 15 Games

SEC Championship


Missouri – Auburn

At the start of the season, who would have thought the SEC Championship would be an all Tiger affair?  I thought it would be Carolina and Bama, and it almost was, so I a least got the semi-finals right….

Who is going to win on Saturday?  Let's look at the intangibles, since both teams are talented on both sides of the ball so that's a tossup.

Auburn has led a charmed life.  They not only got one season saver against Georgia, but they got a second against Alabama to get them here.  Two miracles in one season have never happened before, so the question has to be, has Auburn run out of luck?

Missouri is on a bit of a lucky streak as well as they lost awesome QB James Franklin mid-way through theyear, but didn't miss a beat.  Normally, losing your stating QB, especially one as talented as Franklin, that would doom your season.

Auburn lost their game at LSU in a rainstorm.

Missouri lost at home to South Carolina in a fourth quarter collapse.

Auburn is a team of destiny.

Missouri is also a team of destiny.

The breaks finally end for the Tigers, but which ones you ask?  The ones with the better defense and that belongs to Missouri.

Hello world, you have a new king of the SEC, and it is the unlikeliest of all teams you could ever imagine.

The Missouri Tigers will win the 2013 SEC Championship.


Read Scott Sergent's outstanding new book:
What do you think?

We'd love to hear your comments and/or opinions. If you submit them here, other visitors can read them, rate them and comment on them. An e-mail address is not required.

From 2013 SEC Football Championship Game Preview to SEC Football Blog