2013 SEC Basketball Tournament Preview
By Dennis Berry
Let the Madness begin in the SEC!

It's SEC Tournament time! Fans from all across the SEC will take over Nashville, TN to root on their team as they try to win the SEC Tournament and secure the NCAA automatic bid that comes with that victory. While no one knows for sure what will happen over the next five days, it should be an exciting time.
With the addition of Texas A&M and Missouri, this will be the first time that the SEC Tournament will have a Wednesday night game. One thing that is unchanged is that the top four seeds will receive byes into the quarter-finals on Friday. It's just that in this season, that brings a double bye.

The seeding was not finalized until Saturday.  It was a crazy afternoon that saw Kentucky knock off Florida at Rupp Arena, Tennessee knock off Missouri, and Alabama win on a half-court buzzer beater.


Here is how the seeding worked out:
Florida Gators
Kentucky Wildcats
Ole Miss Rebels
Alabama Crimson Tide
Tennessee Volunteers
Missouri Tigers
Arkansas Razorbacks
Georgia Bulldogs
LSU Tigers
Vanderbilt Commodores
Texas A&M Aggies
South Carolina Gamecocks
Mississippi State Bulldogs
Auburn Tigers

The Favorites
Going into the SEC Tournament there are two teams that can win the SEC Tournament- the Florida Gators and the Missouri Tigers.

The Gators are the clear cut favorites to leave Nashville as tournament champs. They won their second SEC regular season championship in three seasons this year. They have been the best team in the conference all season.

For Florida it all starts on defense. They are one of the best defensive teams in the country and have been all year. Other teams have a really hard time shooting the ball well against the Gators. Teams are only shooting around 37% from the floor and 29% from three against them. That is why the Gators are only giving up 53 points a game to other SEC teams.

Offensively Florida is a very balanced team as well. They have four players that average double figures in points, led by Kenny Boynton at 12.6 points a game. The key for Florida is getting away from jacking up so many three point shots. They have returned to getting the ball into the post to Patrick Young and going from inside-out in their offense.

Plus Florida is a very experienced team. All of their keys players have SEC Tournament experience, but this group has yet to win a SEC Tournament championship. That should change this year.

The other team with the best chance to win the SEC Tournament this year is the Missouri Tigers. Although this will be their first time participating in the tournament and are the sixth seed, they have a roster and a favorable draw. 

The Tigers biggest strength is that they are a great rebounding team. They are able to get a lot of second chance points from the offensive rebounding of Alex Oriaki, Laurence Bowers, Tony Criswell, and Earnest Ross. That group also gets a lot of defensive rebounds.

If Missouri is going to win it all Phil Pressey is going to have to lead the way. He is probably the best point guard in the SEC. He leads the SEC in assists at 7.1 points a game. The Tigers need him to keep doing that, but also become more aggressive scoring the ball. He is a player that could go on a "2010 Kemba Walker" type run and lead the Tigers to a SEC Tournament title.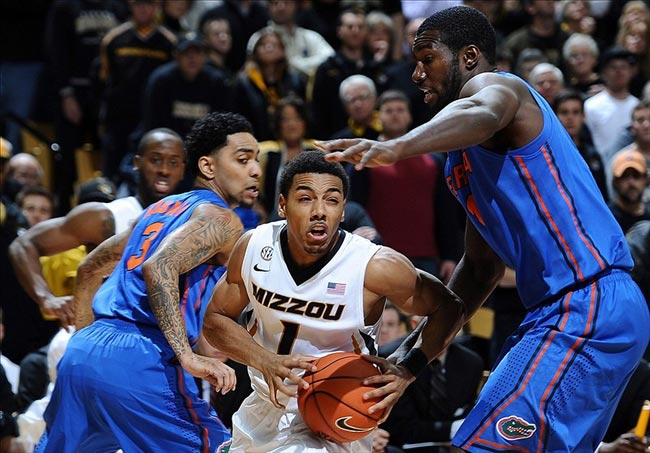 Feb 19, 2013; Columbia, MO, USA; Missouri Tigers guard Phil Pressey (1) tries to get past Florida Gators guard Mike Rosario (3) and Florida Gators guard Kenny Boynton (1) during the second half at Mizzou Arena. The Missouri Tigers defeated the Florida Gators 63-60. Photo Credit: Dak Dillon-USA TODAY Sports.

The Darkhorses
Really with the way this season has gone across college basketball it would not be shocking to see a team come out of nowhere to win the SEC Tournament this year. There are a few teams that are capable of doing just that.

The first team that could do this is the Tennessee Volunteers. They were playing great basketball before losing some steam with a loss at Georgia. They play a physical style of basketball and have proven they can beat the top teams in the SEC. The only thing holding the Vols back has been a lack of offense. If they get hot, they could win the tournament.

After being the "it" team of the SEC in January the Rebels have cooled off. The Rebels are here because of Marshall Henderson. The top scorer in the SEC can get buckets almost anytime he wants. If he is really hot, he could lead Ole Miss on a run in the SEC.

Like Tennessee, Alabama is on the list because of what they do defensively. They are the second best defensive team in the conference behind Florida. Offensively they are near the bottom of the SEC. So if they are to make a run they are going to have to slow the pace of the game and keep it in the 50's.

The Arkansas Razorbacks can create a lot of chaos for opposing teams defensively. If they are going to win the SEC they have to be able to force a lot of turnovers. If they can figure out how to play like they do at home during the SEC Tournament, it would not be surprising to see this team go on a run.

The Unknown
The one team that we really don't know what to expect from is the Kentucky Wildcats. This team has struggled to find their identity since losing Nerlens Noel to an ACL injury. No one knows how they will play in Nashville

If Kentucky is going to win it all, they have to come together as a team. They look great at home, but terrible on the road. The good news is that Kentucky has looked good on a neutral court. They beat Maryland in Brooklyn and then gave Duke a really tough game in Atlanta. Another good thing for Kentucky is you know their fans will flood Nashville to support their team.

The key players for Kentucky to win it all will be Ryan Harrow and Alex Poythress. Harrow has to give Kentucky better play at the point guard position. When he is playing well the offense usually runs smoothly. Poythress is probably the most talented player on the Kentucky roster, but he does not always play like it and can become invisible. These two players have to step up if Kentucky is going to have any shot in Nashville.

They have the talent to win it , but they have not played like it all year.The win against Florida on Saturday was a boost to the NCAA Tournament resume, but they still probably have to win one or two games to secure a bid.

Outside of the teams above, it would be an absolute shock to see another team leave Nashville as SEC Tournament Champions. Sure teams like Georgia and LSU have played better in the SEC, but it would be a shock to see them win four games in four days. Then Texas A&M, Vanderbilt, South Carolina, Mississippi State, and Auburn would have to play their best basketball of the year to win it all.  Needless to say, it will be an exciting tournament to watch.
What do you think?

We'd love to hear your comments and/or opinions. If you submit them here, other visitors can read them, rate them and comment on them. An e-mail address is not required.

By
Mo Johnson
, Copyright © 2006-2017 SECSportsFan.com