2013 College Basketball Team Preview: Indiana Hoosiers
by Mike John
The Indiana Hoosiers had the kind of team last season that could contend for a national championship. This year's team won't have nearly as many resources. Yet, last year's team made the Sweet 16. This year's team could attain that same accomplishment. Going beyond that point will be the really hard part for head coach Tom Crean.


Indiana's Strengths:
The Hoosiers were strong in the frontcourt and on the wings last season. This time around, they'll be anchored at the point. Yogi Ferrell was overmatched when he went up against Syracuse's 2-3 zone defense in last year's East Regional semifinal, but that experience plus an offseason of skill development should make him a far better floor general for the Hoosiers this season.
Indiana was weak at the point in the 2012-2013 campaign, with Ferrell enduring the rigors of an up-and-down season as a freshman. Now seasoned with some teachable moments and growing pains, Ferrell should be able to make better in-game adjustments. He will know what to expect from opposing defenses. He can get Indiana into halfcourt sets with more quickness and fluidity. The Hoosiers can really benefit from Ferrell's maturation.
Come NCAA tournament time, Ferrell – if he's truly up to the task of leading this team on offense – could make the Hoosiers surprisingly effective, more than a lot of analysts are currently willing to claim.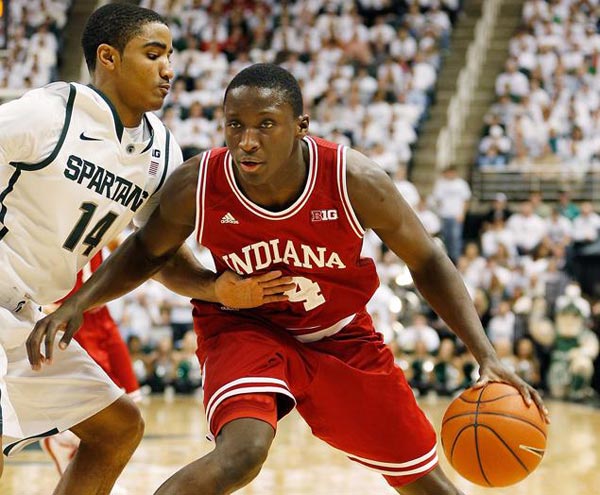 Indiana's Weaknesses:
They are missing a lot of high-end talent, and there's just no way to get around that reality for NorthBet analysts. Cody Zeller – in the eyes of many draft experts – needed another year of college basketball. Zeller was terrible in the Sweet 16 against Syracuse, and it was felt that he needed to become a stronger, more muscular low-post player in order to improve his stock.
Yet, he went to the pros, and as a result, Indiana loses a substantial percentage of its point production from last season. Zeller was an agile and resourceful scorer who made Indiana very hard to defend. He could play with his back to the basket but could also face up and shoot a mid-range jumper.
An even bigger loss for Indiana will prove to be wing
Victor Oladipo
. A lottery pick in the 2013 NBA Draft, Oladipo was originally an exceptionally good defender, as shown in his stellar 2011-2012 season. Last season, though, Oladipo added new dimensions to his offensive game. His perimeter jump shot became much more consistent, and Oladipo displayed more of a willingness to attack the basket and take on more responsibilities as an offensive player. Oladipo is as well-rounded as any player who was chosen in the 2013 draft. Indiana simply won't replace him because teams don't replace players who are that smart and skilled.
Odds AtNorthBet To Win National Championship: +4000
Are They Worth A Shot On The Odds At NorthBet To Win It All?
Indiana is not a Final Four team – the Hoosiers should take a few steps back this season. A Sweet 16 berth would be a terrific accomplishment, given this particular roster.
Check out these
Northbet
reviews to see why
Northbet
is so popular amongst sports fans across the country.