2013 - 2014 SEC Football Bowl Season Review
Well, another football season is behind us and for the first time in eight years, the SEC cannot say they are champs.
 
However, they can say they had a team in the last eight BCS Championship games, and if you count the LSU-Alabama matchup, that is nine SEC teams than played for the BCS championship in eight years.
Pretty impressive.

Something else impressive was the 7-3 record for the conference.  A nice record, but the three teams that lost should have won their games so it could have been a clean sweep of 10-0 and a national championship.  Then again, nobody's perfect.

Here is a recap of the SEC teams in bowls this year:

Music City Bowl

Ole Miss 25 – Georgia Tech 17

I was listening to this game on a sports talk radio station here in Atlanta and they had farmed out the game to the Las Vegas Sports Network.

The who?

Yes, the Las Vegas Sports Network.  With the sound of slot machines and dice being thrown on to the felt behind them, the two announcers, and that is being VERY generous, were about as lost as Dean Martin at an Alcoholics Anonymous meeting.

One of the Mensa Candidates said, "Rebels QB Barry Brunetti has having a great game in front of his hometown fans here in the Music City Bowl."

It turns out, Brunetti is from Memphis and the Music City Bowl is played in Nashville.  Hey Rand McNally, try reading an Atlas one of these days...

The other Einstein referred to the Jackets as Georgia Tech University, when the official name is the Georgia Institute of Technology.  If Bobby Dodd were alive today he would slap your face...

That was pretty much all the excitement as the Rebs stuffed the Jackets option attack and did just enough on offense to win it, 25-17


Liberty Bowl

Mississippi State 44 – Rice 7

In a game as lopsided as pictures hung on the wall after an all day kegger at my Uncle Soup's house, the Bulldogs pounded the Owls in a game that was not as close as the final score indicated.

Dak Prescott (That's a name that will pick up chicks in a hurry) scored about a bazillion TD's and led his team to over 500 yards of total offense. 

MSU also led in first downs, 27-7.

Prescott was playing in memory of his mother, who died of cancer two months earlier.  Mama would be very proud of her boy on this day in Memphis.

The Bulldogs trailed 7-0 and had lost a fumble so it wasn't shaping up to be their day.  However, in a scene reminiscent of Urban Cowboy when Bud walks up to an unsuspecting Wes Hightower, and in the background you hear, "Oh----" you could see what was about to happen.  And just as Bud whipped the hell out of Wes, the same thing happened to the shell shocked Owls.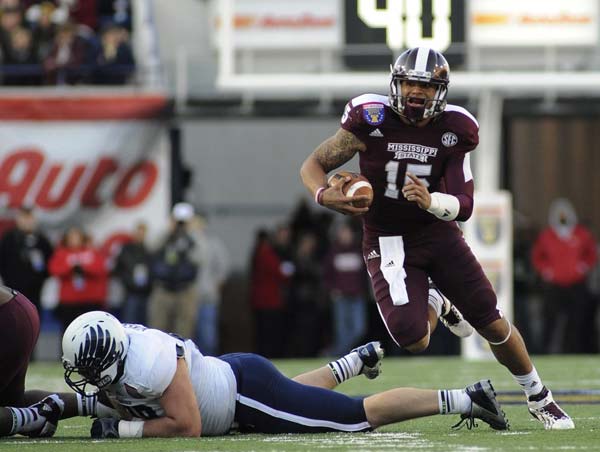 Compass Bowl

Vanderbilt 41 – Houston 24

The 'Doores gave the best coach in school history, James Franklin a nice send off as they ended the year on a high note with a victory over Houston.

Vandy squandered a 24-0 halftime lead as the Cougars tied it up going into the fourth quarter.

This marked the third straight bowl game for the Skippers, which was a first for the program and finished with their first back-to-back nine-win seasons.

The architect of this rebirth was James Franklin, who was not at a loss for a funny reply when asked about his team blowing the lead.

"We were told by the ESPN people that the ratings had gone down so we wanted to spike them back up by making it exciting in the third quarter."

He was also laughing as he got the hell out of town and up to Penn State to be their new head coach.  I am sure the rest of the SEC was happy to see him go.


Gator Bowl

Nebraska 24 – Georgia 19

Well, the script for this one was the same all year for Georgia.  Play it close and make sure the outcome was undecided in the fourth quarter.

For most of the year, their games came down to the last five minutes of the fourth quarter.  This time, they could not pull the victory out of the fire.

The Dawgs could not take advantage of all the gifts the Huskers gave them.  Four short field goals took the place of touchdowns and two critical drops spelled defeat.

The last came from team captain Arthur Lynch dropped a fourth-and-3 pass that would have given UGA a first down inside the ten with less than: 30 seconds left.

The big play came from Huskers QB Tommy Armstrong Jr. who rescued his team from their own one yard line with a 99 yard touchdown pass to Quincy Enunwa which upped Big Red's lead to 24-12 late in the third quarter.

The Nebraska win got a measure of revenge for Bo Pellini, whose team lost to the Bulldogs in last year's Capitol One Bowl.  I wonder if the administration will fire him now?


Chick-Fil-a Bowl

Texas A&M 52 – Duke 48

Duke blew it.  And the Aggies QB, who does not deserve mention here since he is the biggest punk of all time, got lucky and made a few plays here and there.

The Aggies defense won this one since they gave up only ten points in he second half.  The win was not because of some fool playing on offense who rubs his fingers together like he is trying to wipe off a booger.

The sham of him saying he was going to take some time to decide if he was going pro or not was really suspenseful.  That guy was in it for the money, not for the love of his coach, team or school. 

Good riddance Johnny Punkball.  You leaving is the greatest thing to happen to college football in its long and illustrious history.


Outback Bowl

LSU 21 – Iowa 14

The snooze fest of the bowl season saw LSU get to another ten-win season with a lackluster 21-14 victory over Iowa.

I would write more about this one but fell asleep (Well, I was sort of nursing a hangover so that was part of it) and really don't remember much about it.  Or care to for that matter...


Capitol One Bowl

South Carolina 34 – Wisconsin 24

Is it just me, or do you feel like South Carolina is the best team to not be playing for a national championship the last few years?

Steve Spurrier has done a wonderful job and if it had not been for an unfortunate loss here and there, the 'Cocks would be one of the many SEC teams playing for the national title the last few years.

Aaron Murry, Zack Mettenberger, A.J. McCarron are all great QB's, but why doesn't Connor Shaw's name come up more often?  He had five TD's in the game and the Badgers had no answer for him, either on the ground or through the air.

This just might be the victory that give USC the momentum in 2014 to end up in the playoff, and from there, with the Old Ball Coach writing the script, who knows where they could end up?


Cotton Bowl

Missouri 41 – Oklahoma State 31

Quiz: what team in the SEC East had the most victories?  And who tied for the most victories in the SEC?  Georgia?  South Carolina?  Florida? Tennessee? 

Try the Missouri Tigers, who after their Cotton Bowl victory over Oklahoma State ended up 12-2. 

12 wins in 2013.  Pretty impressive considering they were supposed to be the weak link of the division and a few years away from even being relevant.

Mizzou looked like a real SEC team as they clubbed the Pokes for 256 yards rushing and featured a defense that saw DL Shane Ray return a fumble 73 yards for a touchdown.

Look out Eastern Division in 2014.  UGA USC and the Gators will be better, but they better not sell Missouri short since these Tigers now have some serious claws.


Sugar Bowl

Oklahoma 45 – Alabama 31

I wish I could write the Tide was not interested in playing in the game since they lost out on a chance to play for the national championship, but that script has already been written (See Utah-Bama Sugar Bowl 2009).

After looking as if they would control the underdog Sooners, it was OU who punched the Tide in the face and never let up in one of the more surprising bowl games in recent memory.

I think we can blame it all on Lane Kiffin, who was helping Coach Saban during preparations.  He did such a great job, and, stop me if you have heard this before, he was hired as the new Offensive Coordinator.

Never before in history has a person failed so miserably and keeps getting high profile gigs.  Is the whole college football world blind or just stupid?  Maybe Kiffin has the same agent as Bobby "Leaving on a midnight train from Georgia" Petrino.

"Big Game" Bob Stoops looked like Homer Simpson at an all you can eat buffet as he finally beat an SEC team in something other than a war of words.  Live it up, Booby, the sun don't shine on the same dog's ass every afternoon...


BCS Championship

Florida State 34 – Auburn 31

The last four national champs came from the state of Alabama, and unfortunately, the last two big bowl busts also belong to the state of Alabama.

How the hell did Auburn not win this game?  Up 21-3 and tiring out the Noles defense, you thought this one was over.  But a missed FG, a sure TD pass early in the game that was dropped coupled with a fake punt that led to an FSU touchdown proved the undoing of Auburn's chance to win the championship.

It's funny but all the pundits out there, as well as all the non-SEC fans jumped on this one as if the SEC was a patsy all these years.  That's when you know you have the best conference in the world since if the SEC wasn't the best, and had finally lost a championship game, nobody would erupt with such excitement over a win.

When Tre Mason scored, everyone ion the room said to me, "They left too much time on the clock."  That's the way college football goes these days since the offenses are so good, you have to not only score, but also milk the clock, and that's what we saw in this one.

I had to laugh as Jameis Winston and the dazed look on his face through most of this one.  He was finally playing big boy football and he looked like it as he was not nearly as effective in this game as he had been all year.

But give him credit, he made the plays at the end when it counted and because of that, Florida State is back on top of the college football world.

And Auburn?  They used up all their miracles in the regular season.


What do you think?

We'd love to hear your comments and/or opinions. If you submit them here, other visitors can read them, rate them and comment on them. An e-mail address is not required.

2013 - 2014 SEC Football Bowl Season Review to SEC Football Blog