---
Looking for info for current year Arkansas football team? If so, go to
2009 Arkansas Razorbacks Football.
---
WOW! What a turn-around! We thought 2008 would be a tough year for Arkansas Razorbacks Football. By tough, I mean bad. Really bad. Last place bad. And, that's coming off a fairly disappointing 2007 season that resulted in former coach Houston Nutt being fired (sort of).
And, it started out that way. But, not any more. Another big win this past weekend against undefeated Tulsa. Of course, the earlier huge surprise win at Auburn. Wow, didn't see that one coming. I'm thinking Bobby Petrino might just work out eventually. Impressive that he kept the team together and playing so hard after so many setbacks early in the year. Congrats to all you long-suffering Razorback fans.
Razorback fans had high hopes last season as they were led by Heisman Trophy candidate and running back phenon Darren McFadden. But, UA suffered TOUGH losses at Alabama and at home to Auburn. The loss to Kentucky at home was also closer than the score indicated. You can read more about last season's team at
2007 Arkansas Razorbacks Football
.
However, much of that bad luck was reversed in the Razorbacks incredible 50-48 win against then #1 LSU - at Death Valley.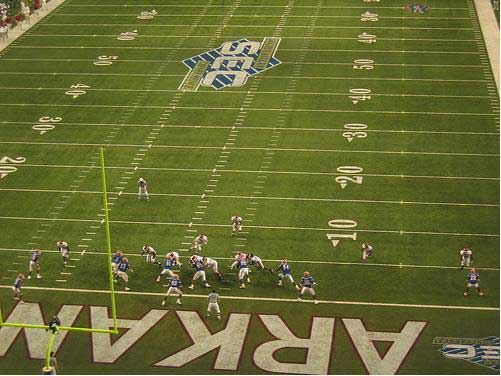 2006 SEC Football Championship Game.
Thanks to bjsmith at flickr.com for the picture .
---
So, even though the Razorbacks ended the regular season with a mediocre 8-4 record; they still managed to get selected for the January 1st Cotton Bowl where they faced one of the top team's in the country -- Missouri. Arkansas was selected because of their strong fan base and also because it was recognized that they had great talent and had lost several really close games.
Arkansas came into the Cotton Bowl ranked #25. But, they lost 38-7 to Missouri; dropped to 8-5 and finished the season out of the Top 25.
Then came Nutt's firing and the hiring of Bobby Petrino who has returned to coach in the college ranks, this time as the Razorback's head coach. He also brought his brother - Paul Petrino - with him to serve as Offensive Coordinator and Willy Robinson as Defensive Coordinator.
Make no mistake, it will be a rocky first year for Petrino.
Reason?
First
, of course, they lost McFadden and their other tremendous running back (Felix Jones) to the NFL draft. The Razorbacks offense took a big hit when both Darren McFadden and Felix Jones went to the draft. They were leaders, a good bunch of guys and had amazing skills running the ball at times. Jones was a back-up to McFadden, but could have been a starter somewhere else. McFadden was 2nd in the Heisman Trophy running the past two years. Jones was drafted by Dallas, McFadden by Oakland. And the losses were not only in the backfield. The Razorbacks also lost key receivers in Marcus Monk and Chris Baker. Senior QB Casey Dick returns. And, he has a strong offensive line anchored by Pre-Season All-SEC Johnathan Lugis. But, that's about it.
All in all, Arkansas is tied with LSU and Vandy for the most starters lost from last year. The Back's only have 5 starters returning on the offensive side of the ball; 5 on the D; and 2 on special teams. They have
no
preseason first or second team All-SEC players on defense.
Second,
Arkansas has an absolutely murderous schedule in 2008. Just look at it (below). I could see them going 0-8 in the SEC. Really. We don't think that will happen. But, their easiest game is Ole Miss at home. And, even that could be dicey as the coach they just fired (Houston Nutt) was hired by Ole Miss and surely will bring the Rebs into Fayetteville fired up and primed for an upset. And, of course, Mississippi State is no slouch any more.
We think Arkansas will battle it out with Ole Miss for the bottom of the SEC West. The Ole Miss game at home will be crucial. Arkansas decided to make it their homecoming game and just fired coach Houston Nutt will bring his Rebels to town fired up. If there's one thing Nutt is good at, it's motivation. He'll tell his team how Arkansas disrespects them by picking them out as their homecoming opponent, etc. It will be a tough game. Bottom line is it's hard to find many likely wins on Arkansas' schedule. Certainly on their SEC schedule.
They'll win their first two "patsie" games. After that it will be all downhill. First they go to Texas. Then it's all in-conference except for the game against Tulsa, which will not be easy either.
For some inexplicable reason, head coach Bobby Petrino has been "talking up" UA's season for the Razoback fans. We think he'll regret this. Petrino did an amazing job when he was at Louisville and he is a great offensive coach. But, this is the SEC. This is 2008. He should be setting everyone's sites on a more reasonable
goal
to go 6-6 and sneak into an early December bowl game.
But we think if Arkansas managed a 6-6 record, Petrino should get coach of the year. Our prediction - 1-7 in the SEC and dead last in the SEC West. 3 or 4 wins at the most. Sorry.
Fun Fact: Arkansas fans might not want the Cotton Bowl or even a bowl game as the Hogs are a total 3-7-1 in Cotton Bowls and 11-22-3 all-time in bowl games.
2008 Arkansas Razorbacks Football Schedule
30 August -- Western Illinois at Home -- Razorback Stadium in Fayetteville
6 September -- Louisiana-Monroe at Home - War Memorial Stadium, Little Rock
13 September -- at Texas
20 September -- Alabama at Home
4 October - Florida at Home
11 October - at Auburn
18 October - at Kentucky
25 October - Ole Miss at Home (Homecoming)
1 November - Tulsa at Home
8 November - at South Carolina
22 November - at Mississippi State
28 November - LSU at Home (Little Rock)
2008 Arkansas Razorbacks Football Roster
You can find the complete 2008 UA Razorback roster at
2008 Arkansas Razorbacks Roster
.
Head Coach:
Bobby Petrino (1st year at Arkansas) (41-9 .820)
Stadiums:
Donald W. Reynolds Razorback Stadium (80,000), Fayetteville War Memorial (53,727) - Little Rock
Other Arkansas Football Pages
What do you think?

We'd love to hear your comments and/or opinions. If you submit them here, other visitors can read them, rate them and comment on them. An e-mail address is not required.

---
Return to Home Page
Alabama Crimson Tide Football
Florida Gators Football
Kentucky Wildcats Football
Ole Miss Rebels Football
Mississippi State Bulldogs Football
South Carolina Gamecocks Football
Auburn Tigers Football
Georgia Bulldogs Football
LSU Tigers Football
Tennessee Volunteers Football
Vanderbilt Commodores Football
From Arkansas Razorbacks Football to SEC Sports
---
SEC Sports Blog
|
SEC Football
|
SEC Basketball
|
SEC Women's Basketball
|
SEC Baseball
|
SEC Track and Field
|
SEC Swimming and Diving
|
SEC Tennis
|
SEC Golf
|
SEC Gymnastics
|
SEC Soccer
|
SEC Softball
|
SEC Volleyball
|
Best College Sports Conference
|
SEC vs Big Ten Debate
|
SEC Sports News
|
Current SEC Sports News
|
SEC Sports Pictures and Videos
|
SEC Sports Fan Forum
|
College Football Association
|
SEC Sports Fan Trips
|
2008 SEC Football Tickets
|
Fathead
|
College Sports Tailgate Party Shop
|
College Sports Merchandise
|
College Sports Apparel
|
SEC Sports Fan Store
|
---
Return to Home Page
About Us | Contact Us | Site Search |
---