---
Looking for info on 2008 Arkansas football team? If so, go to
2008 Arkansas Razorbacks Football
.
---
Bad loss for Arkansas football to Missouri in the Cotton Bowl. But, understandable given the turmoil right now with a new coaching staff, etc.
2008 will be a challenging year as Arkansas loses McFadden to the pros and new coach Bobby Petrino (formerly Atlanta Falcons coach) installs a new system. More to come on this...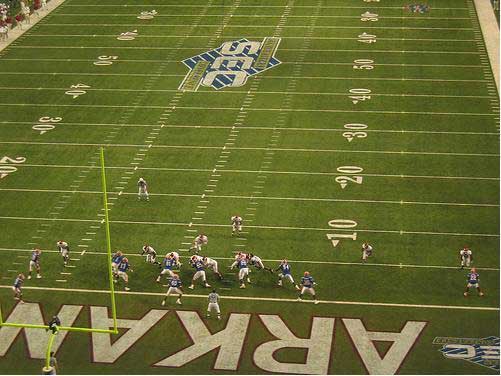 2006 SEC Football Championship Game. Thanks to bjsmith at flickr.com for the picture .
---
Prior Discussion:
What a great win against LSU! Darren McFadden looked awesome. But, then, of course, we had Houston Nutt's resignation. Crazy times in Fayetteville.
So, what's gonna happen next? Well, the Hogs take on Missouri in the Cotton Bowl. We look for Missouri to have a let down (after losing the Big 12 Championship to Oklahoma). Plus, we just think McFadden is awesome and will want to show the world why he should win the Heisman.
It should be a great game. If you don't have your tickets yet, check out
Arkansas vs Missouri Cotton Bowl Tickets
.
Here's what we said before the season began:
Arkansas football is the wild card in the SEC West. They have some outstanding talent returning from a great team last year. But, the off-season has been full of turmoil.
Head coach, Houston Nutt, has faced severe criticism on several fronts - in particular for his role in the unceremonious exit of the Razorbacks former Offensive Coordinator Gus Malzahn.
The key issue is whether the off-season turmoil will distract the team or bond and motivate the team.
The Razorbacks had a tremendous 2006 football season. They jumped out to a 10-1 record and beat Tennessee and Auburn. But, they finished the season in a swoon, losing their last three games to LSU, Florida (in the SEC Championship game) and Wisconsin (Capital One Bowl).
Star running back Darren McFadden was spectacular and is a front-runner for the 2007 Heisman Trophy. Last season, McFadden set the record for most rushing yards ever by an Arkansas Razorback. He was selected for the Preseason All-SEC team and was the only player on the team who received a unanimous vote by all coaches.
Arkansas also has Felix Jones returning (another back who gained over 1,000 yards in 2006.) With two returning 1,000-yard rushers, Darren McFadden and Felix Jones, the Razorbacks' running game will be nearly impossible to stop. In 2006 it was ranked 4th nationally.
However, their passing game will most likely give them trouble.
The Razorbacks are putting a lot of faith in quarterback Casey Dick after losing Mitch Mustain to USC last year. They are hoping that Dick will be the one to turn their poor passing game around. Senior split end Marcus Monk is also a key player for Arkansas this year thanks to his 6'6" frame.
New Offensive Coordinator David Lee, has revamped the Razorback offense. Lee is hoping to improve Arkansas Football's poor passing game, which ranked 108th nationally last year, by implementing a new NFL style passing game.
The Razorbacks have 12 returning starters and also had 12 Arkansas football players selected for the pre-season All-SEC team. That tied LSU for first most pre-season All-SEC first and second team players. It was nice to see Offenseive Guard Jonathan Luigs recognized for his incredible blocking that clears the way for McFadden and Jones.
Like I said, Arkansas football is the 2007 SEC football wildcard. They have lots of talent, but also lots of distractions. They also will be implementing a new offensive scheme.
Bottom line - we think they'll do fine, go to a nice bowl game, but finish behind LSU and Auburn in the SEC West.
Get your Arkansas Razorbacks
Merchandise and Apparel
,
Tickets
, and
Baseball Caps
now.
2007 Arkansas Football Schedule:
Sep. 1 Troy Home
Sep. 15 Alabama Away
Sep. 22 Kentucky Home
Sep. 29 North Texas Home
Oct. 6 Chattanooga Home
Oct. 13 Auburn Home
Oct. 20 Ole Miss Away
Oct. 27 Florida International Home
Nov. 3 South Carolina Home
Nov. 10 Tennessee Away
Nov. 17 Miss. State Home
Nov. 23 LSU Away
---
Other Arkansas Football Pages
What do you think?

We'd love to hear your comments and/or opinions. If you submit them here, other visitors can read them, rate them and comment on them. An e-mail address is not required.

2007 Arkansas Football Roster:
#0 LS, So., Nathan Duren
#0 WR, So., Blane Gibson
#0 OG, Sr., Mike Moffitt
#0 OG, Fr., Cody Standridge
#2 WR, So., London Crawford
#3 S, Sr., Kevin Woods
#4 FL, Jr., Sean Penix
#5 TB, Jr., Darren McFadden
#7 WR, Jr., Reggie Fish
#8 S, Sr., Michael Grant
#9 CB, Sr., Matterral Richardson
#11 QB, Jr., Casey Dick
#13 WR, So., Rod Coleman
#15 QB, So., Clark Irwin
#15 WR, Fr., Andrew Norman
#17 QB, Jr., Nathan Emert
#17 CB, Jr., Shedrick Johnson
#18 FL, Sr., Robert Johnson
#19 FL, Fr., Carlton Salters
#21 TB, So., Michael Smith
#22 RB, Sr., Peyton Hillis
#25 TB, Jr., Felix Jones
#26 CB, Fr., Ramon Broadway
#27 CB, So., Jerell Norton
#28 SE, Sr., Chris Baker
#29 CB, Jr., Jamar Love
#30 LB, Sr., Weston Dacus
#31 S, Sr., Matt Hewitt
#32 CB, Fr., Evan Bettis
#32 TB, Fr., Torian Wilkins
#33 FB, Sr., Farod Jackson
#36 DE, Fr., Van Stumon
#37 RB, So., Hezekiah Smith
#38 S, Jr., Elston Forte
#39 S, So., Matt Harris
#40 DE, So., Adrian Davis
#41 LB, Fr., Ryan Powers
#42 LB, Fr., Chip Gregory
#43 S, Jr., Dallas Washington
#44 OLB, So., Freddie Fairchild
#45 OLB, Sr., Glen Jasper
#45 OLB, Jr., Desmond Williams
#46 OG, Jr., Mitch Petrus
#47 LB, So., Wendel Davis
#48 LB, So., Tommy Rehg
#49 LB, Jr., Mark Bonner
#50 K, Jr., Jeremy Davis
#52 K, Jr., Brian Vavra
#54 K, So., Joel Hall
#54 DE, Fr., Donnell Sanders
#55 DL, Sr., Marcus Harrison
#55 LS, Fr., Barrett Reynolds
#56 OG, So., Colin Tucker
#57 K. So., Will Moore
#58 OL, So., Joey Crossland
#59 K, Jr., Stephen Arnold
#61 OG, Sr., Robert Felton
#62 OL, So., Michael Aguirre
#63 OG, Jr. Jonathan Luigs
#65 OG, Fr., DeMarcus Love
#72 OG, Jr., Cody Green
#73 OT, Fr., Ray Dominguez
#73 OT, Jr., Jose Valdez
#75 OT, Sr., Nate Arner
#76 OT, Fr., Jim Hart
#80 TE, Sr., Mason Templeton
#81 SE, Fr., Marques Wade
#82 TE, So., Andrew Davie
#83 TE, Jr., Lance Thompson
#84 WR, So., Rashaad Johnson
#85 WR, Sr., Marcus Monk
#86 FB, So., Ben Cleveland
#87 WR, Jr., John Aaron Rees
#88 DT, So., Jonathan Riddell
#89 DT, So., Charles Alexander
#90 DT, Jr., Ernest Mitchell
#93 DT, Jr., Marcus Shavers
#94 DE, Sr., Chris Wade
#95 DT, Sr., Fred Bledsoe
#96 DE, So., Malcolm Sheppard
#97 DE, Jr., Antwain Robinson
#98 DT, Jr,. Cord Gray
- C, So., Nathan Huffer
---
Return to Home Page
Alabama Football Auburn Football Florida Football Georgia Football Kentucky Football LSU Football Mississippi State Football Ole Miss Football South Carolina Football Tennessee Football Vanderbilt Football From Arkansas Football to SEC Sports SEC Football SEC Basketball SEC Women's Basketball SEC Baseball SEC Track and Field SEC Swimming and Diving SEC Tennis SEC Golf SEC Gymnastics SEC Soccer SEC Softball SEC Volleyball Best College Sports Conference SEC vs Big Ten Debate SEC Sports News SEC Sports Blog SEC Sports Fan Forum 2007 SEC Football Tickets SEC Sports Fan Trips SEC Sports Fan Store About Us Contact Us Site Search
---